Using Redact with Tiktok
We currently support Tiktok as a service for Redact! You can mass remove all your posts on Tiktok.
Delete Tiktok content by date range and relative date
Deletion can be specified by Start Date (Only delete after this date) or End Date (Only delete before this date). When you press the calendar icon, a calendar will appear. By default, it'll take you to the current date, but you can easily change this. You can click the title at the top to select from a list of months, or click it twice to select from a list of nearby years. Alternatively, you could click the left and right arrows to skip around to adjacent months. When you have the correct month and year, you just click the day and you're done. If you want to start over, just tap the Reset in red text.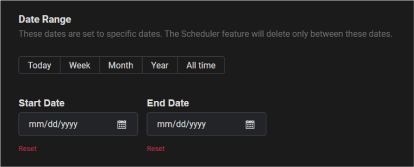 Delete your Tiktok history
To delete anything and everything on your Tiktok account, just skip the form, go straight to Deletion Mode, and click start deleting. Take note that content deletion is irreversible. This is recommended if you want to have a fresh Tiktok account rather than making a new one.

For a detailed description of these features and what they do, visit this page.