Using Redact with Discord
We currently support Discord as a service for Redact. You can remove your messages in servers, direct messages, images and videos.
Delete messages in Discord servers
Find and delete messages in specific servers, and different channels within those servers. You can select multiple servers and channels at the same time. The RESET button clears out every selected channel and server. Select All selects every channel in the server you've selected.
Delete Discord direct messages
Clicking on DMs will bring up the Direct Messages option. There, you can find and delete messages in specific servers, as well as different channels within those servers. The search bar on the side can filter out the user handles based on your search.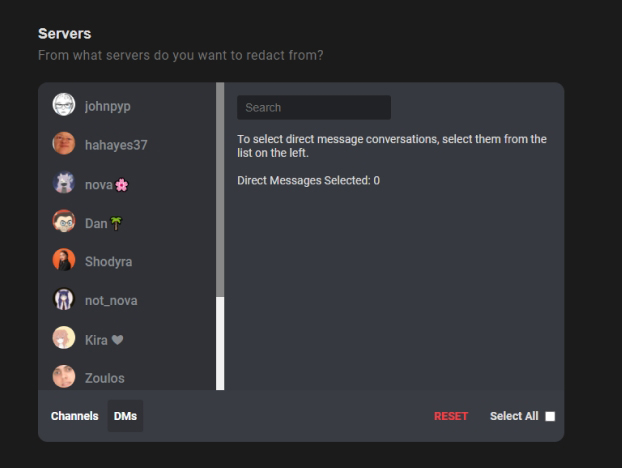 Delete by keyword
Redact will find and mass delete your Discord messages by keywords.

Delete by date range
Deletion can be specified by Start Date (Only delete after this date) or End Date (Only delete before this date). When you press the calendar icon, a calendar will appear. By default, it'll take you to the current date, but you can easily change this. You can click the title at the top to select from a list of months, or click it twice to select from a list of nearby years. Alternatively, you could click the left and right arrows to skip around to adjacent months. When you have the correct month and year, you just click the day and you're done. If you want to start over, just tap the Reset in red text.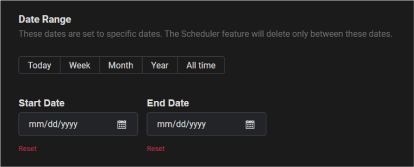 Specific message types
For bulk Discord deletion, we have Images, Videos, Embeds, Sounds and Files. Tick the box if you want to specify the message type. By default, it searches through every message type. Ticking any box means the search will not include text-only messages.

Delete all Discord history
Select all Servers, Channels and DMs, then click Deletion Mode to finally start deleting! This will prompt Redact to delete anything and everything. Take note that deletion is irreversible, and we only recommend deleting everything if you want to have a totally fresh Discord account rather than making a new one.

For detailed Deletion modes/options and what they do go and visit here.